2021-22 GPSA Assembly
Please reach out anytime to your executive or academic council representatives.
Executive Council
PRESIDENT
Sukhmanpreet Kaur
VP OF INTERNAL AFFAIRS
Leila Lu
VP OF FINANCE
Woodger Faugas
VP OF DIVERSITY AFFAIRS
Sanjana Mulugund

VP OF EXTERNAL AFFAIRS grad rep
Alexander Merriman
VP OF EXTERNAL AFFAIRS prof rep
Claire Ogee-Nwankwo
Academic Council
DENTISTRY
Christine Yoon
GRADUATE DIVISION basic sciences
OPEN
GRADUATE DIVISION social sciences
OPEN
MEDICINE
Gurbani Kaur, Lemuel Vince Rivera, and Hannah Sans
NURSING
Casady Brown
PHARMACY
Emily Chu
PHYSICAL THERAPY
Katayani In and Sophia Bobadilla
---
Student Goverment Structure

---
Registered Campus Orgs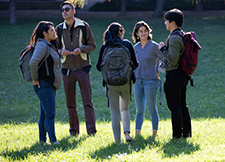 Interprofessional student RCOs can obtain funding for organizational expenses, orientation events, UCSF student recruitment, and social activities. GPSA also provides funding for RCO administrative support expenses such as photocopying, postage, and basic office supplies.
Log into the Group Portal today to browse all UCSF Registered Campus Organizations (RCOs), join a club, start a new one, plan an event, and so much more! » Group Portal