2023-24 Election and Referendum Results
Thank you for voting in the 2023-24 elections of the Graduate & Professional Student Association Executive Council, GPSA constitutional updates, and Student Transit Pass Referendum. We would like to congratulate the following elected officers:
Student Transit Pass Referendum: Approved by UCSF students (pending approval by the Chancellor and UC Office of the President)
President: Diana Do
VP of Internal Affairs: Honglip Park
VP of Finance: Woodger Faugas
VP of Diversity Affairs: Jasmine Garcia
VP of External Affairs (grad): David Sung
VP of External Affairs (prof): Keya Patel and Sarah Shapiro
If you are interested in running for the VP of External Affairs (graduate division rep) please email GPSA.
There is a place in student government for all UCSF students not only through the Executive Council but through the Academic Council and campus committees. If you are interested in getting involved with your student government, please contact GPSA or attend the next GPSA meeting next academic year.
If you have any questions, please do not hesitate to reach out to [email protected].
---
GPSA would love to hear your thoughts, suggestions and/or concerns and anything that GPSA could do to better serve you. Please use this form to leave your comments anonymously.
Executive Council
PRESIDENT
Sameera Singh 
VP OF INTERNAL AFFAIRS
Nam Nguyen 
VP OF FINANCE
Woodger Faugas
VP OF DIVERSITY AFFAIRS
Sree Duggirala

VP OF EXTERNAL AFFAIRS grad rep
David Asakitogum
VP OF EXTERNAL AFFAIRS prof rep
Keya Patel and Sarah Shapiro
Academic Council
DENTISTRY
Sudeep Dutta
GRADUATE DIVISION basic sciences
Sydney Williams
GRADUATE DIVISION social sciences
OPEN
MEDICINE
Eli Picazo and Connie Zhou
NURSING
Enrique Esteinou
PHARMACY
Nishat Jahan
PHYSICAL THERAPY
Katayani In, Sophia Bobadilla, Tram Pham, and Nick Covaia
---
Student Goverment Structure

---
Registered Campus Orgs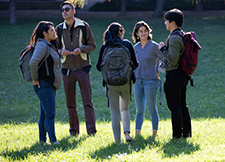 Interprofessional student RCOs can obtain funding for organizational expenses, orientation events, UCSF student recruitment, and social activities. GPSA also provides funding for RCO administrative support expenses such as photocopying, postage, and basic office supplies.
Log into the Group Portal today to browse all UCSF Registered Campus Organizations (RCOs), join a club, start a new one, plan an event, and so much more! » Group Portal